5 Rounds For Time
7 Muscle-Ups
21 Target Burpees
Each Burpee terminates with a jump to touch a target 1 foot above max standing reach.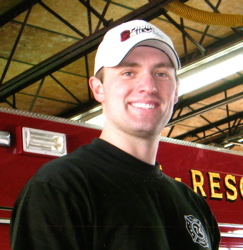 Maplewood, MO Firefighter, Ryan Hummert, 22, was killed by sniper fire July 21, 2008 when he stepped off his fire truck responding to a call.

He is survived by his parents Andrew and Jackie Hummert.

The "Ryan" Hero WOD was first posted on crossfit.com as the workout of the day for Wednesday, October 8, 2008 (081008).