"Painstorm XXI"
CrossFit Central Scotland Benchmark WOD
For time
30 Burpees
30 Deadlifts
30 Burpees
30 Cleans
30 Burpees
30 Strict Presses
30 Burpees
30 Push Presses
30 Burpees
30 Jerks
30 Burpees
30 Swings
30 Burpees
30 Sumo Deadlift HIgh-Pulls
30 Burpees
30 Snatches (Left Hand)
30 Burpees
30 Snatches (Right Hand)
30 Burpees
30 Man Makers
Use the same pair of dumbbells throughout. Originally the WOD was designed as "choose your own weight." If you're looking for an Rx weight consider 55/35 lb.
Related Collections:
Burpee WODs
,
Clean WODs
,
Deadlift WODs
,
Dumbbell Swing WODs
,
Jerk WODs
,
Man Maker WODs
,
Push Press WODs
,
Snatch WODs
,
Strict Press/Shoulder Press WODs
,
Sumo Deadlift High-Pull WODs
,
Dumbbell(s) WODs
,
For Time WODs
,
Benchmarks & Tributes WODs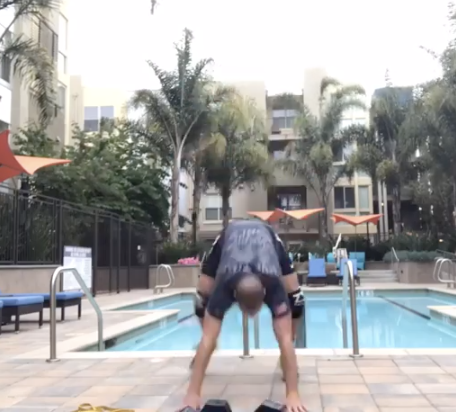 "Painstorm XXI," aka: "Burpee Bedlam" (of the 600 total reps, 300 are burpees), was first posted in the forum, by Jeff Martin of CrossFit Brand X (Ramona, CA, USA), on January 2, 2007.
The Painstorm WODs are a series of workouts that became popular after they were shared in the CrossFit Forum, typically with Credit to Brand X CrossFit and CrossFit Central Scotland.
See other
Painstorm WODs
.