For Time
100 Dumbbell Thrusters (35/25 lb)
5 Burpees to start, and at the top of each minute
Start with 5 burpees. Then complete as many thrusters as possible until the minute is up. Repeat until 100 total thrusters are completed. If athlete does not finish score is number of rounds and reps completed.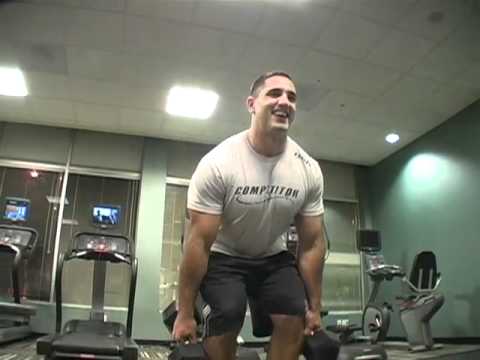 See also: "
Kalsu
."
The "Hotel Hell" workout, made popular via a YouTube video on March 27, 2011, featuring CrossFit Games athlete, Jason Khalipa, demonstrating a great full-body high-intensity workout you can do in your hotel, with just a pair of dumbbells. It is based on the CrossFit hero WOD, "Kalsu" (which requires barbell thrusters instead of dumbbell thrusters).
In the video Khalipa does not start the workout with burpees and his cleans are from the "hang" position (not from the ground). The version shown on this page, however, follows the "start with burpees" and "from the ground" standards of "Kalsu."