"Chelsea"
CrossFit Benchmark WOD
EMOM in 30 minutes
5 Pull-Ups
10 Push-Ups
15 Air Squats
Good Scores for "Chelsea" (source)
Chelsea is a special EMOM type of WOD. It doesn't have a good score to beat. Your goal is to just finish the WOD RXed. Good score for a beginner will be about 10-15 rounds.
Scaling
For intermediate athletes, this benchmark has a built-in scale by requiring you to continue after you fail to meet the interval. Newer athletes should modify the movements and reps but try to maintain a similar interval structure.
Beginner Option
Every minute on the minute for 20 minutes perform:
3 jumping pull-ups
6 knee push-ups
9 squats
If you fall behind the clock, keep going for 30 minutes and see how many rounds you can complete.
If you've finished the workout before, this time add 1 rep to each exercise—i.e., 6 pull-ups, 11 push-ups, and 16 squats each minute—and see if you can go the full 30 minutes.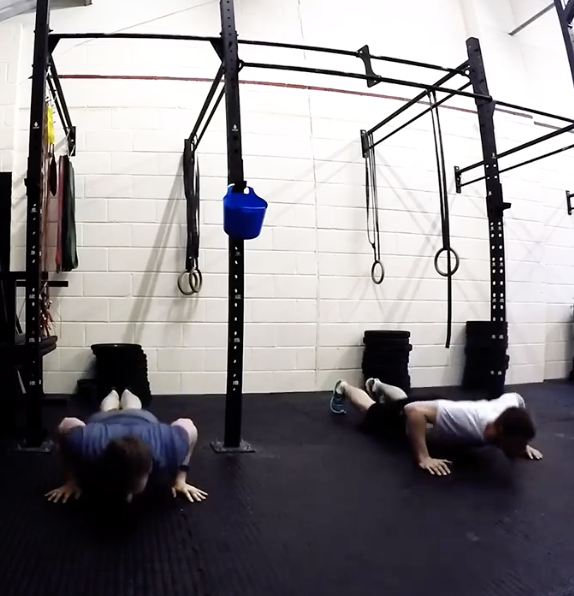 "Chelsea," one of CrossFit's first six
"Girls" WODs
, was first posted on crossfit.com as the workout of the day for Sunday, September 7, 2003. (030907).
A September 2013 CrossFit Journal
article
stated: ""
Angie
," "
Barbara
," and "Chelsea" are super simple (being comprised entirely of common calisthenics), very tough, dramatically reinforce the pull-up, and yet each presents a different metabolic challenge. Angie and Barbara, contain pull-ups, push-ups, sit-ups, and squats. Chelsea contains pull-ups, push-ups, and squats but no sit-ups. For each of these three workouts the pull-ups clearly present the greatest challenge. And, in the workouts' aftermath, most athletes expressed surprise at their significant lat, rear delt, and biceps soreness. At CrossFit the pull-up is sacrosanct and everyone needs more. Angie, Barbara, and Chelsea support these values and aims."
See also (variants): "
Cindy
," "
Candy
," "
Mary
," "
Maggie
."