"Zachary Tellier"
CrossFit DC Hero WOD
132.6K
8.4K
For Time
10 Burpees
10 Burpees
25 Push-Ups
10 Burpees
25 Push-Ups
50 Lunges
10 Burpees
25 Push-Ups
50 Lunges
100 Sit-Ups
10 Burpees
25 Push-Ups
50 Lunges
100 Sit-Ups
150 Air Squats
Complete the work in the order written, starting each new segment with 10 burpees.
Score is the time it takes you to complete all the repetitions—650 reps in total.
Tips and Strategy
Keep a steady pace–a good strategy for any WOD over 20 minutes long. And if there's a movement that you're particularly proficient at, go faster during that movement. Remember: Hero WODs like this are designed to honor fallen men and women, so work hard.
Intended Stimulus
This chipper-style WOD is long and steady. Since there's quite a bit of variety in the movements (burpees, push-ups, lunges, sit-ups, and air squats) you should move constantly and take very little rest. If you find yourself needing to rest more than a few seconds at a time, reduce the volume of repetitions and/or scale the movement.
Scaling Options
This is a lengthy, bodyweight workout designed to take approximately 30 minutes or less. Scale the volume and/or the required skill level (see: Push-Up Scaling | Sit-Up Scaling) so you can move continuously. Long rest breaks will reduce the intended intensity of this Hero WOD.
Beginner A
10 Burpees
10 Burpees
15 Push-Ups
10 Burpees
15 Push-Ups
20 Lunges
10 Burpees
15 Push-Ups
20 Lunges
25 Sit-Ups
10 Burpees
15 Push-Ups
20 Lunges
25 Sit-Ups
30 Air Squats
Beginner B
10 Burpees
10 Burpees
15 Incline Box/Bench Push-Ups
10 Burpees
15 Incline Box/Bench Push-Ups
20 Lunges
10 Burpees
15 Incline Box/Bench Push-Ups
20 Lunges
25 Anchored Sit-Ups
10 Burpees
15 Incline Box/Bench Push-Ups
20 Lunges
25 Anchored Sit-Ups
30 Air Squats
Related Collections
About the wod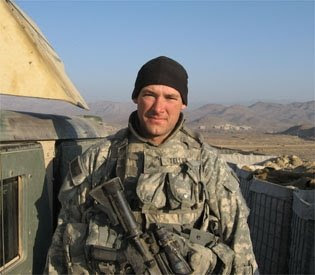 Background: Dedicated to U.S. Sgt. Zachary D. Tellier, 31, of Charlotte, NC (USA) a combat infantryman with the 4th Squadron, 73rd Cavalry Regiment, 4th Brigade Combat Team, at Fort Bragg. He died Sept. 29, 2007, of wounds sustained while on a ground patrol in Afghanistan.
The previous April, Tellier's unit was conducting a mounted patrol when one of its vehicles drove over and detonated a bomb, which set the vehicle on fire, according to a statement from the 82nd Airborne.
Tellier pulled two paratroopers out of the vehicle to safety, suffering severe burns to his hands. He was awarded the Bronze Star Medal with valor for his actions.
After he was burned, Tellier jumped up in the turret to return fire, said Sgt. Michael Layton, a member of Tellier's unit. A lieutenant made Tellier get out of the vehicle because of his injuries, Layton said.
"Zachary Tellier has to be the biggest hero I've ever known or heard of, not just because of what he did, but because of his personality," Layton said. "He came in the Army because he wanted to be around soldiers and serve his country, and he paid the ultimate sacrifice."
Tellier is survived by his wife, Sara Tellier of Atlanta, Ga.; his father, David W. Tellier of Groton, Mass.; and his mother, Pamela Rodriguez, of Falmouth, Mass.
Tellier's passing was first mentioned by CrossFit DC @crossfitdc (Washington D.C., USA) on October 4, 2007 but the first post we found of this workout was from May 27, 2009. That post said Zach "basically lived on [Coach] Chris Rutynas' couch for months at a time. If you noticed Chris pushing even harder than usual [during this WOD], its because he knew what this was about."
According to Coach Tom Brose (CrossFit DC), "This workout originally had a 100m shuttle sprint after each block of exercises (done as out and back of 5-10-15-20)." The version we found on CrossFit DC's website excluded the shuttle sprint.