"Vincent Halloran"
555 Fitness Hero WOD
For Time
50 Wall Ball Shots (20/14 lb)
40 Pull-Ups
30 Deadlifts (225/145 lb)
20 Box Jumps (24/20 in)
10 Overhead Squats (135/95 lb)
20 Box Jumps (24/20 in)
30 Deadlifts (225/145 lb)
40 Pull-Ups
50 Wall Ball Shots (20/14 lb)
Related Collections:
Box Jump WODs
,
Deadlift WODs
,
Overhead Squat WODs
,
Pull-Up WODs
,
Wall Ball Shot WODs
,
Barbell WODs
,
Box WODs
,
Medicine Ball (Wall Ball) WODs
,
Pull-Up Bar WODs
,
For Time WODs
,
The Heroes WODs
,
555 Fitness WODs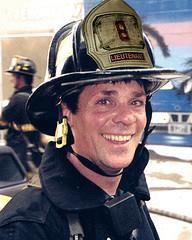 This Firefighter Hero WOD is dedicated to Vincent Halloran, FDNY, Ladder 8, who was killed on September 11, 2001.

Lieutenant Halloran, 43, who was with Ladder Company 8 in TriBeCa and lived with Mrs. Halloran and the children in North Salem, N.Y., took it all in stride. He ran the house, as his wife put it, like a camp. There was a wide age range — Jake, 15, Conor, 13, Aidan, 12, Kieran, 9, and Declan, 2 — but he arranged activities for all of them.

Vincent Halloran of North Salem NY was lost in the line of duty while serving as a Lieutenant for the New York City Fire Department at the World Trade Center on September 11, 2001. He was 43.