"Randy"
CrossFit Hero WOD
95.8K
997
For Time
75 Power Snatches (75/55 lb)
With a running clock, as fast as possible perform the prescribed work in the order written.
Score is the time on the clock when the last power snatch is completed.
Good Times for "Randy" (source)
– Beginner: 9-15 minutes
– Intermediate: 6-8 minutes
– Advanced: 4-6 minutes
– Elite: <4 minutes
Tips and Strategy
Good technique from the start sets the tone for "Randy." Although the weight is light and you can get away with muscling your way through the first half, that will quickly catch up with you on the back-half of this high-rep workout. Using the legs while keeping the arms straight and relaxed allows for the upper body to have gas in the tank for the last 25-30 reps.
The way you break up your reps is up to you. Here are some options to try:
21-18-15-12-9
5 sets of 15
5 sets of 10, then 8-8-7-7
10 sets of 7, then 5
Intended Stimulus
This "singlet" (a workout with only one movement) should feel very muscularly fatiguing. With only one movement to work through—and 75 repetitions—the workout is straightforward. The load should feel light, but will become taxing within a couple of minutes. Your grip and lungs will suffer the most during "Randy."
Scaling Options
Scale the load and/or the volume in "Randy" so that the load feels light. You should be able to move quickly and complete at least 5 unbroken reps for every set. This workout should not take more than 15 minutes, so scale accordingly.
Beginner Option
For Time:
50 Power Snatches (65/45 lb)
Related Collections
About the wod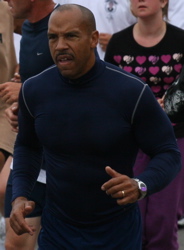 Background: In honor of Randy Simmons, 51, a 27 year LAPD veteran and SWAT team member who was killed in the line of duty February 6, 2008.
The "Randy" Hero WOD was first posted on the CrossFit Main Site as the workout of the day for Wednesday, February 13, 2008 (080213).