by
Taco Fleur
"Ragnarök"
Coach Creation WOD
7.6K
137
For Total Reps in 38 minutes
In 6 minutes, perform:
Kettlebell Half UKC* + Halo (12/8 kg)
Rest 2 minutes
2 Rounds of The Pace Maker:
30 seconds of Left-Arm Kettlebell Swings (16/12 kg)
30 seconds of Right-Arm Kettlebell Swings (16/12 kg)
30 seconds of Left-Arm Kettlebell Snatches (16/12 kg)
30 seconds of Right-Arm Kettlebell Snatches (16/12 kg)
30 seconds of Left-Arm Kettlebell Overhead Reverse Lunges (16/12 kg)
30 seconds of Right-Arm Kettlebell Overhead Reverse Lunges (16/12 kg)
Rest 2 minutes
Then, in 8 minutes, perform:
Max Strength Kettlebell Complexes** (2x16/12 kg)
Rest 4 minutes
Finally, in 10 minutes, 3 attempts for Power of:
Max Double Kettlebell Half Snatches (2x16/12 kg)
*1 UKC consists of: 1 Deadlift, 1 Hang Clean, 1 Power Clean, 1 Single-Arm Kettlebell Swing, 1 Snatch, 1 Strict Press
**1 Strength Kettlebell Complex consists of: 1 Curl, 1 Strict Press, 1 Bent Over Row, 1 Push-Up
See: Ragnarok Demo
You have 10 minutes for 3 attempts at max total double kettlebell half snatches. ON your first attempt, don't go all out as you know that you'll have 2 more attempts to come.
Half snatches are where the kettlebell is snatched up overhead and then dropped into racking before the next rep.
Scoring
The only task that is scored are the double kettlebell snatches. The reps of all three attempts are added and used as the final total score for this WOD.
Warm-Up
2 minutes of:
Air Squats
Hip Hinges
Alternating Reverse Lunges
Scaling
UKC: Replace the snatch with clean and push press.
The Pace Maker: Replace full snatches with half snatches or clean and push press. Replace overhead reverse lunge with racked reverse lunges
Strength: Replace double bell work with single and repeat the sequence on both sides
Power: Replace double bell work with single and repeat the sequence on both sides
Beginner option for the final task is single kettlebell work with only one switch per attempt.
About the wod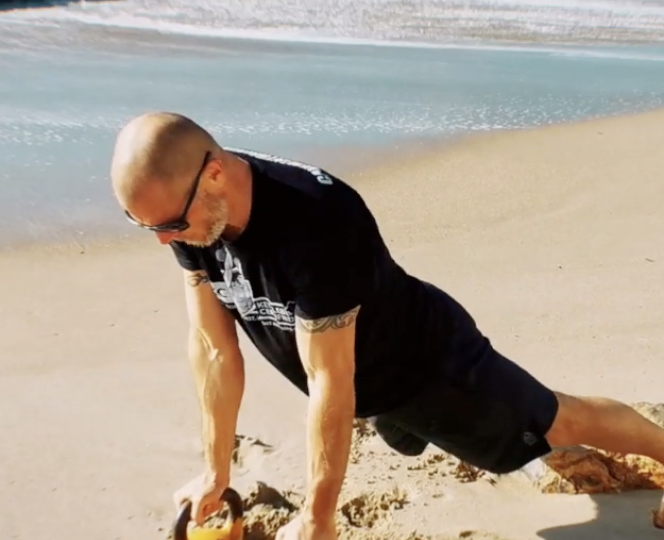 Background: The Ragnarök WOD is a battle within, will you give up, or will you continue? The endurance during the unbroken sets will have your mind want to give up before you body does. The same mental strength you call upon to complete the cardio part of the WOD will be required to set a good score in the last part of the workout. The workout has parts of several popular WODs, the good old UKC from Colossus WOD, the Pace Maker, and a mix from the Asgard.
Intended Stimulus: The workout starts with bodyweight followed by cardio for a good warm-up, followed by strength, and ends with power. There is a good 4 minute rest before the power work.
Strategy: It's all about this final task, rest as long as you need but plan it so that you'll be able to take another rest and have just enough time to give it your all in your last attempt.