5-10-15-20 Reps For Time
Burpee Pull-Ups
Wall Ball Shots (20/14 lbs)
Power Snatches (135/95 lbs)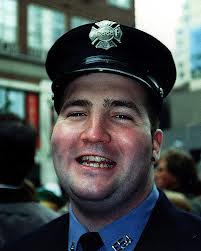 This Firefighter Hero WOD is dedicated to Michael Brennan, FDNY, Ladder 4, who was killed on September 11, 2001. As a child he was fascinated with police officers and firefighters; his favorite television show was "CHiPs." So it was no surprise to his family when he left college in 1995 to become a firefighter. "He had a passion for it," Ms. Walsh said, adding that he was continually working to improve his skills. He answered the call on Sept. 11 with Ladder Company 4.