"Marine 16"
Coastal Fitness / Team RWB Memorial WOD
24.3K
710
Eight 2-minute AMRAPs in 16 minutes
AMRAP from 0:00-2:00
20 meter Sprint
16 Burpees
AMRAP from 2:00-4:00:
20 meter Sprint
16 Push-Ups
AMRAP from 4:00-6:00:
20 meter Sprint
16 Air Squats
AMRAP from 6:00-8:00:
20 meter Sprint
16 Mountain Climbers
AMRAP from 8:00-10:00:
20 meter Sprint
16 Jumping Jacks
AMRAP from 10:00-12:00:
20 meter Sprint
16 Jumping Lunges
AMRAP from 12:00-14:00:
20 meter Sprint
16 High Knees
AMRAP from 14:00-16:00:
20 meter Sprint
16 Tuck Jumps
Perform as many rounds and repetitions as possible ("AMRAP") of each couplet within the 2 minutes allotted, then move immediately to the next 2-minute AMRAP. Count one repetition for each 20-meter Sprint (10 meters = 1 repetition). Count one repetition for each 2-count on Mountain Climbers and High Knees (left and right = 1 repetition). For all other movements, count one repetition per completed movement (eg: Burpees, Push-Ups, Air Squats, Jumping Jacks, Tuck Jumps) or per side (eg: Jumping Lunges). Track the number of repetitions completed for each 2-minute AMRAP.
Score is the total number of repetitions completed in all eight AMRAPs.
About the wod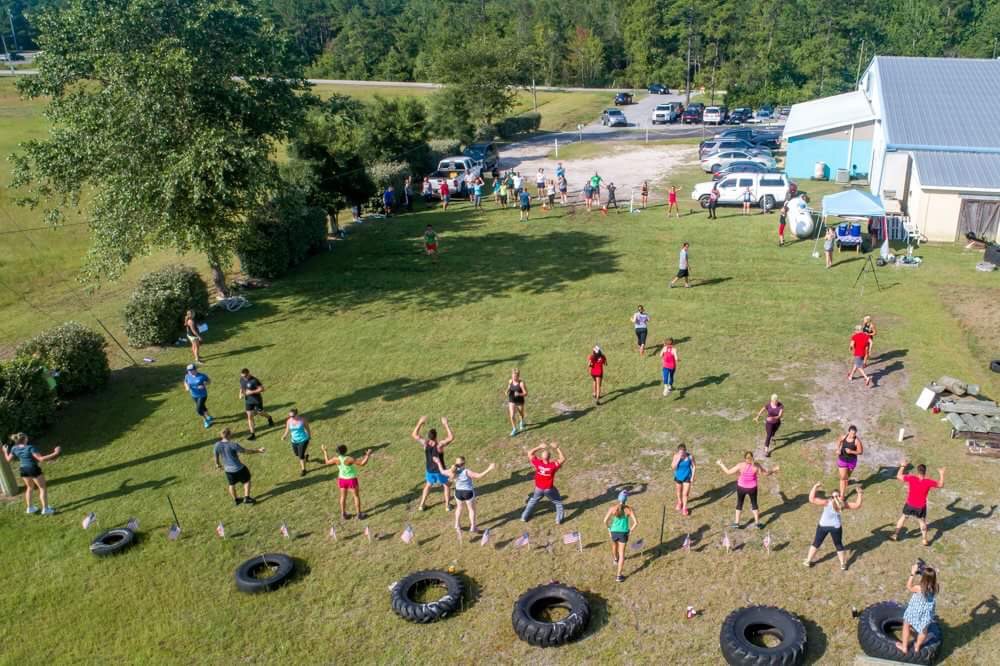 Background: This memorial workout was created to honor 15 fallen US Marines and one Navy Corpsman who were involved in a KC-130 crash in Mississippi on July 10, 2017.
Six of the Marines and the sailor were from an elite Marine Raider battalion at Camp Lejeune, North Carolina. Nine were based out of Stewart Air National Guard Base in Newburgh, New York, home of a Marine Aerial Refueling and Transport Squadron.
Team Red, White and Blue (@teamrwb) of Camp Lejeune, NC partnered with a local gym, Coastal Fitness @coastalfitnesscenter (Hampstead, NC), to create and host this workout for the first time on July 22, 2017. They collected donations for the families of the fallen.
From Rachel Schwartz of Coastal Fitness, who designed the WOD: "The workout is based on the number 16 (16 minutes of continuous movements, 16 repetitions per set). [For the event] at one end of the field where the workout was held we had 16 American flags lined up to remind each participant why they were there, pushing themselves through such a challenging workout. We had about 50 people show up and everyone completed the workout! We even had deployed members of Team RWB complete the workout over seas."