"Lawrence Veling"
555 Fitness Hero WOD
2.3K
46
21-15-9 Reps for Time
Strict Handstand Push-Ups
Front Squats (185/115 lb)
Burpees
Related Collections
About the wod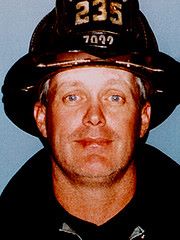 This Firefighter Hero WOD is dedicated to Lawrence Veling, FDNY, Engine 235, who was killed on September 11, 2001.
Firefighter Lawrence Veling, a 15-year veteran of the FDNY, was the senior man on duty Sept. 11th at Engine Co. 235 in the Bedford-Stuyvesant, Brooklyn.
Larry Veling was one of six men on the truck when it left the fire station. Radio reports said the Brooklyn Bridge was clear, but Engine 235 turned onto the Manhattan Bridge when the driver realized that the span was all but void of traffic. They made excellent time getting to the towers.
As the first plane struck, Veling understood the enormity of the situation. So, as he waited for the inevitable call to the scene, he tried, in his calm, level way, to prepare the younger firefighters for the danger they would face. "His leadership role shined through that day," said Lt. John Cullen of Engine 235. Veling told the crew to stay together because it was the kind of horrible fire where firefighters get hurt, Cullen said.
Veling, 44, was one of six firefighters from Engine 235 to die that day, Mayor Giuliani said at the service at the Resurrection Church in Gerritsen Beach, Brooklyn.