"Joseph Marchbanks Jr."
555 Fitness Hero WOD
12.2K
563
For Time
10-9-8-7-6-5-4-3-2-1 Reps of:
Alternating Dumbbell Snatches (75/45 lb)
Handstand Push-Ups
With a running clock, as fast as possible perform the prescribed work in the order written. Perform 10 Alternating Dumbbell Snatches and 10 Handstand Push-Ups before moving on to 9 Alternating Dumbbell Snatches and 9 Handstand Push-Ups and so on.
Score is the time on the clock when the last round of handstand push-ups is completed.
Related Collections
About the wod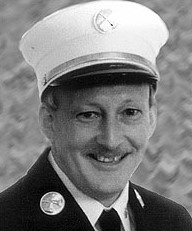 This Firefighter Hero WOD is dedicated to Joseph Marchbanks Jr., FDNY, Battalion 12, who was killed on September 11, 2001.
I am proud to remember Joseph Marchbanks Jr. who was a Battalion Chief in Harlem, but he preferred to be called a firefighter. A 22-year veteran, Chief Marchbanks garnered four promotions by the time he died at age 47, but "he wasn't one to brag," said his wife, Teresa.
Still, Chief Marchbanks had a lot to brag about. A Bronx native, he qualified for the police force and the fire department in the same week, he chose the latter, never looked back.
"He loved his job," said his friend (and stickball teammate) Frank McDonagh. He lived in Nanuet, N.Y., with his wife, Teresa, and his children, Lauren, 14, and Ryan, 8. "He had an extremely good sense of humor. He held the family together, he was the hub," said his sister, Kathleen Allison. She said he coached his daughter's softball team and was a regular at all the soccer and baseball games his son played in. Marchbanks' survivors include a twin brother in Boston.
At the firehouse, he organized study groups to help others pass tests for promotions. "He taught without you realizing you were learning," said his friend and colleague, Lieutenant Kevin Guy.
Ray Joseph Marchbanks JR. was a firefighter originally assigned to Engine Company 73 and later transferred "across the floor" into Ladder 42.
His contagious smile was always present. Joe's willingness to help; whether at a fire, a practical joke, or to benefit a brother who needed him was also a constant that could be depended on. His love of, "The Job", was evident in his good-natured professionalism wherever he was.
He made his mark on the job everywhere he went as he was promoted to Lieutenant, then to Captain and finally to Battalion Chief where he was assigned to Battalion 12. Joe's memory will live on in the hearts and minds of all the members of The House on Prospect Avenue in the Bronx.