"Hope for Kenya"
CrossFit Tribute WOD
9.2K
297
AMRAP in 12 minutes
50 Air Squats
30 Push-Ups
15 Pull-Ups
Related Collections
About the wod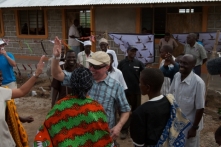 Background
: The "Hope for Kenya" workout was developed by CrossFit as part of a fundraising effort in February 2013. The goal of the campaign was to provide "educational opportunities and relief from hours of daily water cartage [to] help Kenyans take major strides away from subsistence farming and poverty. Schools and water cisterns can form the foundation upon which a less fragile life can be built."
The "Hope for Kenya" WOD was an early initiative of what became the
CrossFit foundation
, stating that "CrossFit can make a major difference for our neighbors on the other side of the planet."
See also
: "
Hope
" WOD