"Clovis"
CrossFit Hero WOD
31.3K
290
For Time
10 mile Run
150 Burpee Pull-Ups
With a running clock, as fast as possible ("For Time") complete 10 mile Run and 150 Burpee Pull-Ups. Partition the Run and Burpee Pull-Ups as needed.
Score is the time on the clock when the workout is completed.
Related Collections
About the wod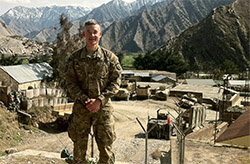 Background: U.S. Army Second Lieutenant Clovis T. Ray, 34, of San Antonio, TX, assigned to the 2nd Battalion, 35th Infantry Regiment, 3rd Brigade Combat Team, 25th Infantry Division, based in Schofield Barracks, HI, was killed on March 15, 2012, in Kunar province, Afghanistan, when insurgents attacked his unit with an improvised explosive device.
He is survived by his wife Shannon, son Dean, parents Bob Ben Sr. and Cecilia, brothers Eddie and Bob Ben Jr., and sister Jennifer.
The "Clovis" Hero WOD was first posted on the CrossFit Main Site as the workout of the day for Sunday, November 11, 2012 ("121111").