"Bert"
CrossFit Hero WOD
83.4K
2.9K
For Time
50 Burpees
400 meter Run
100 Push-Ups
400 meter Run
150 Walking Lunges
400 meter Run
200 Air Squats
400 meter Run
150 Walking Lunges
400 meter Run
100 Push-Ups
400 meter Run
50 Burpees
With a running clock, perform the prescribed work in the order written as fast as possible ("For Time").
Score is the time on the clock when the last rep of Burpees is completed.
Tips and Strategy
Go for a steady pace of around 75-80% of your max speed during this long, bodyweight chipper WOD. The Push-Ups will likely prove to be the crux of this workout, so break the reps up early—big sets of Push-Ups will burn you out. Pick up the pace during the last 50 Burpees of "Bert"—you're almost at the finish line at that point.
Intended Stimulus
This Hero WOD (like many Hero WODs) should feel long and grueling. Due to the big sets of movements (200 Air Squats in a row, 100 Push-Ups in a row, etc.) you'll feel plenty of muscle fatigue. Everything should hurt during this workout: your upper body, lower body, core and lungs are all put to the test. This WOD isn't about going fast, but rather steadily chipping away at the movements. If you find you need to rest for more than 10 seconds at a time, then you're either going too fast, or you need to scale the volume.
Intermediate athletes should finish in 50-70 minutes.
Scaling Options
Most of the exercises in "Bert" are approachable by all skill levels, however the volume of the movements is high. Reduce the volume as needed so you can move smoothly and steadily throughout the WOD and finish.
Intermediate 
For time:
40 Burpees
400-m Run
80 Push-Ups
400-m Run
120 Walking Lunges
400-m Run
160 Air Squats
400-m Run
120 Walking Lunges
400-m Run
80 Push-Ups
400-m Run
40 Burpees
Beginner 
For time:
20 Burpees
200-m Run
30 Knee Push-Ups
200-m Run
40 Walking Lunges
200-m Run
50 Air Squats
200-m Run
40 Walking Lunges
200-m Run
30 knee Push-Ups
200-m Run
20 Burpees
Related Collections
About the wod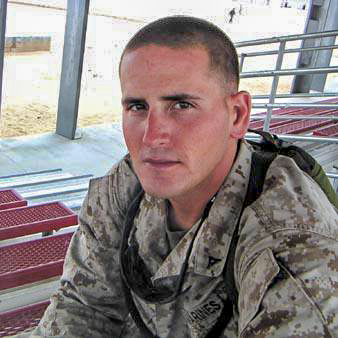 Background: Dedicated to U.S. Marine Cpl. Albert Gettings, 27, of New Castle, Pennsylvania, who died on Jan. 5, 2009, while conducting counter-sniper operations in Fallujah, Iraq. Cpl. Gettings was serving as a team leader with the 2nd Battalion, 6th Marine Regiment, 2nd Marine Division, II Marine Expeditionary Force, of Camp Lejeune, North Carolina, at the time of his death.
Every quarter, Cpl. Gettings' fellow Marines in Fox Company complete a special CrossFit workout in his honor as part of the Cpl. Albert P. Gettings Award ceremony.
He is survived by his wife, Stephanie Palimino; parents, David and Juliet; and sister, Cori."
This "Bert" Hero WOD was first posted as the workout of the day on the CrossFit Main Site for October 26, 2018 ("181026").