by
Taco Fleur
"Bell Bastard"
Cavemantraining Benchmark WOD
12.5K
242
Three AMRAPs in 42 minutes
AMRAP from 0:00-6:00:
3 Kettlebell High Swings (16/12 kg) (right)
3 Squat Frontal Raise (16/12 kg)
3 Kettlebell High Swings (16/12 kg) (left)
Then, AMRAP from 6:00-36:00:
1-2-3-4 reps of:
Double Kettlebell Hang Cleans (2 x 16/12 kg)
Front Squats
Full Snatches
(Broken set penalty: 10 Crush-Grip Push-Ups)
Then, AMRAP from 36:00-42:00:
Push-Ups
No rest between AMRAPs. In the second AMRAP, if athlete breaks during the set of 1-2-3-4, penalty is 10 crush-grip push-ups (palms on a single kettlebell).
Related Collections
About the wod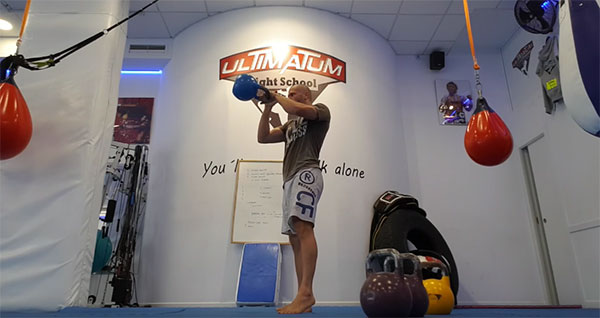 The "Bell Bastard" WOD was submitted to us by Coach Taco Fleur of Cavemantraining. The workout was first posted on cavemantraining.com on December 7, 2017.
In the first AMRAP, a squat frontal raise is a front squat with the kettlebell held out front with arms fully extended (see demo video at 3:17). With a kettlebell high swing the kettlebell swing ends just below eye height, with the kettlebell staying close to the body.
Taco said, "The workout is called BELL BASTARD, simply because it's a bastard of a workout, but you'll love it. The harder it is, the better the results!
In your first AMRAP, the high swings are to progress to the snatch in the main AMRAP. The frontal raise is to tax the shoulders. Hence, you'll need to swing high enough in the main task to take the load of those by then taxed shoulders.
The second AMRAP is a ladder. First, you will do one of each, i.e. one clean, one squat, one snatch, don't put the bells down! Then you do two of each, then three, and finally four. Then you can put the kettlebells down. If you break the set, you do 10 crush grip push-ups. This will be a mental challenge for anyone. Halfway through the set, you're smiling, but that won't last long.
The third and final AMRAP is because we all love some additional work. You better hope you did not break too many sets!"