For Time
2 minute Elbow Plank (in silence)
13 Burpees
18 Kettlebell Swings (50/35 lb)
31 Push-Ups
53 Goblet Squats (50/35 lb)
53 Burpees
31 Kettlebell Swings (50/35 lb)
18 Push-Ups
13 Goblet Squats (50/35 lb)
2 minute Wall Sit (in silence)
For the plank and wall sit, accumulate 2-minutes total of each (count time while in the hold only).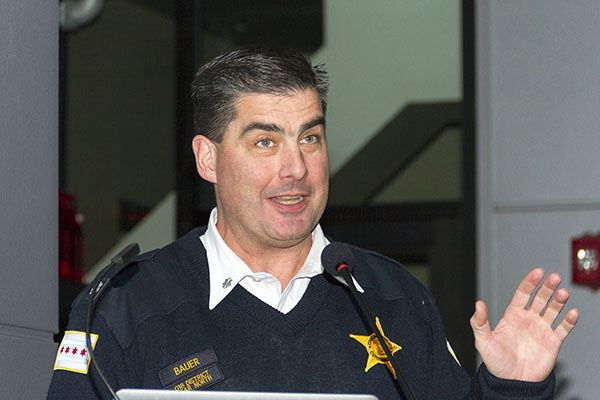 Background:
Dedicated to Chicago Police Cmdr. Paul Bauer who was shot and killed by a four-time felon after a chase and struggle on February 13, 2018. Bauer's weapon was still holstered, and his police radio and handcuffs were found next to his body.
We first found this workout posted on Instagram by a user named Britney
@twinmomfit4life
, who said, "I am a daughter of a retired Houston Police Officer. Hearing about this and reading about office Bauer broke my heart. I decided that I wanted to honor his memory using equipment I had at my house. Officer Bauer was 53, he served with CPD for 31 years and he was murdered on 2/13/18." In her post, Britney thanked Coach JK McLeod
@jk139
"for tweaking the WOD I had in mind to make it more Hero WOD status!"
See also (related):
"Da Bauer"
(different workout for the same man)